By Meredith Goldstein, Globe Staff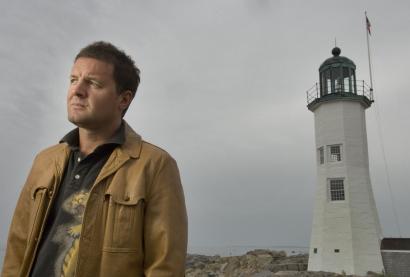 The story of how the London pop band Dirty Vegas moved to Massachusetts begins with "Days Go By," the mega hit that made the group famous back in 2002.
The song started as a guitar ballad that Dirty Vegas frontman Steve Smith wrote about an ex-girlfriend he couldn't get out of his mind. When Smith played the song for his bandmates Ben Harris and Paul Harris (no relation), they liked it. But since they were a dance-music trio, they sped up the pace and produced "Days Go By" with electronic beats and distorted vocals.
It worked. The track was huge on the London dance scene and caught the attention of the car company Mitsubishi, which asked the group if it could use the song in a commercial that would feature attractive hipsters dancing to the tune while riding down a city highway in an Eclipse.
"They're like, we have this car. We want every 25-year-old to go out and buy our car," Smith said. "There was a young director, younger than us. We thought, this is the direction to go in."
Suddenly, thanks to the commercial and a video for the song on MTV and VH1, "Days Go By" topped Billboard charts. Dirty Vegas was offered a five-album deal with Capitol Records and picked up the 2003 Grammy for best dance recording.
"Everybody just wants to give you free pairs of jeans," Smith said, laughing about the sudden success that comes with a big single.
That, of course, was the high. The low quickly followed.
By 2004, the group had released a commercially unsuccessful second album, "One," and was quarreling with the label. Before long, Dirty Vegas left Capitol — and one another. Ben Harris got married and distanced himself from the industry, and Paul Harris went back to DJing at clubs.
Smith, who had reunited with the woman who inspired "Days Go By" and married her, looked for inspiration to carry on the Dirty Vegas name, and he found it in the unlikeliest spot: the South Shore.
"A very good friend married a lovely American lady from Norwell," Smith explained over drinks at Joe's American Bar & Grill on Newbury Street. "I went to the wedding and fell in love with the place."
Smith had been feeling fed up with London anyway, so he and his wife, Charlotte, scouted for property along Route 3. By January of last year, they had picked up their life, including their daughter, who's now 6, and moved to a five-bedroom house not far from the Scituate lighthouse. It was impulsive, but it felt right.
"You try these things, and hopefully they'll work out," Charlotte said.
And now they're your everyday Bay Staters. They take the Hingham ferry to Boston and drink Samuel Adams, which Smith said is now his favorite beer ("it's a fantastic kind of beer, like what we're accustomed to in Europe"). They've fallen in love with New England oysters, which apparently aren't as good in London. Smith likes to walk down to the lighthouse to think up melodies and lyrics.
"You grow up seeing America in the movies. You come to somewhere like here, and you feel like you're on a movie set," Smith said. "I came here and the juices started flowing again."
Jobs started coming in once Smith settled. Still recording under the Dirty Vegas moniker ("the guys were alright with that," he said), he wrote the score for "The Boys & Girls Guide to Getting Down," a 2006 film about clubbing in Los Angeles. And under his own name, he also composed the theme song for the now-canceled FOX series "Standoff."
Perhaps the biggest news is that Smith has been writing a solo album set to be released Sept. 18. It's called "This Town." Smith keeps it vague, but yes, "this town" refers to Scituate and the Boston area in general.
"It's about outgrowing where you live and seeing other parts of the world," he said.
Some of the tracks on the album are radio-friendly guitar-pop tunes; others have an electronic edge inspired by Smith's work with Dirty Vegas. One of Smith's favorite songs on the album is "Smile," which features violinist Jay Ungar, who played on James Horner's soundtrack to "Legends of the Fall," one of Smith's late father's favorite albums. Smith met Ungar through one of his Scituate neighbors.
Another random cameo on the disc is actor John Savage, perhaps best known from the 1978 film "The Deer Hunter." The wife of one of Smith's album producers ran into Savage in a local furniture store and told the actor about the disc. She asked if Savage wanted to contribute to the project, and he agreed to record voiceovers. "This Town" begins with clips of Savage talking about life and change.
"This Town" will be released on Smith's own label, GAS Records (named for his father, George Albert Smith), and was recorded at Camp Street Studios, formerly Fort Apache, which has been used by big Boston acts such as Buffalo Tom, the Mighty Mighty Bosstones, and Morphine.
Now that the album is complete, Smith is booking live gigs for the fall. And much to his surprise, he is also DJing again. He thought he was done with the club scene, but after spinning at a film party in LA, Smith booked a few more gigs in a number of international cities, as well as Boston. He recently played at a party at Mansion (now called the Estate) in the Alley off Boylston Street. Adam Taylor, the house engineer at Camp Street, said it's been amusing to work with someone who is an international DJ and an unassuming, local singer-songwriter at the same time.
"He's always flying off to do DJ things," Taylor said. "His name is still really huge in the DJ market. That's still where his live personality comes from, but he's definitely found a home here."
And as part of putting roots down, Smith is striking a balance between his music and his new suburban lifestyle, starting with home renovations he's doing himself.
"The house is like an album," he said. "Your bedroom is the love song. The kitchen is the hard one. The spare bedroom is the one on the album you never finish and winds up being a B-side."
Some of Smith's neighbors know his backstory, including a local police officer who stopped by and asked to see "it."
"He meant the Grammy," Smith said.
The family occasionally travels back to London, but Smith hasn't seen his Dirty Vegas bandmates much, mainly because the relationship is strained over issues of who owns what. Still, Smith writes his music in his living room at a keyboard surrounded by Dirty Vegas memorabilia, including an oversized image of the cover of the self-titled album that included "Days Go By." Also, the final track on his solo record is a slow, acoustic version of the song that made the group famous.
Smith said he's eager to sing the old number — and his new songs — for his hometown. And by that, he means here, not London.
"I'm excited to play the Middle East," he said of the Cambridge club, smiling. "We're working out a date."
An unlikely trip from Dirty Vegas to the South Shore